About us
ABOUT US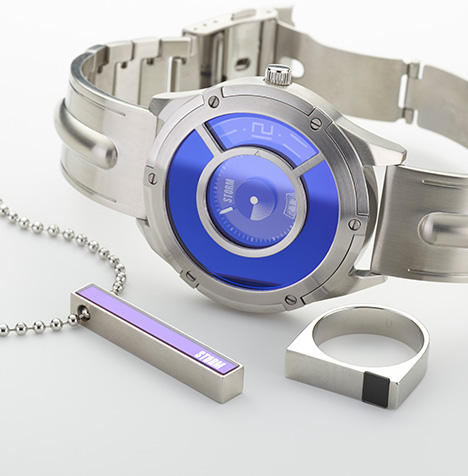 British brand STORM leads the way with statement designs and trend led product. With a multitude of cutting edge designs across both casual and contemporary styles, STORM continues to push boundaries through its innovative approach to produce unique fashion watches and jewellery. With highly original designs almost architectural in form, STORM has standout ability. Stainless steel, enamel, ceramic, leather, and Swarovski crystals are just a few of the high quality materials which contribute towards the STORM collection.
STORM is renowned for its exclusive watches and distinctive stylish fashion accessories. In addition to an extensive range of watches and jewellery STORM also offers bags, wallets, fragrances, eyewear, clothing and footwear.
STORM products are sold in department and chain stores, independent retail outlets, and STORM standalone stores in over 45 countries around the world. STORM is the leading British fashion watch brand on the market today. Launched in 1989 and still pioneers of the fashion industry.
STORM has a vision to continue pushing the boundaries to ensure its customers are always excited by its new and original designs.
ETHOS
STORM is a statement of the future. Worldwide, the STORM brand continues to challenge expectations of inventive design.
ORIGIN
STORM's unique creative ethos began in London in 1989, specialising in innovative watch design. As STORM approached the new millenium the range expanded to include jewellery, eyeware and clothing. Today the collection also includes bags, wallets, umbrellas and recently STORM launched perfumes for him and her. More accessories are planned for the future.
PHILOSOPHY
STORM believes in the cult of individualism. From stylish sports to bold fashion statements, the STORM range combines unique features and gadgets with a wide range of colours and shapes.
STORM continually seeks stimulation for new challenges in design. STORM's team of dedicated designers take inspiration from the world around them, combining unconventional materials together with precision instrumentation.
FUTURE
The distinctive STORM range evolves continuously with the creation of designs to challenge consumer expectations and provide individuality. Each design is unique, it is given protection by intellectual copyright and design right. Only genuine STORM products carry the official product seal.
STORM timepieces are highly sculptural and almost architectural in shape and form. STORM continues to be a pioneer in the quest for individual style and is now coveted around the world.